Google Business Profile (GBP), is an exceptionally effective tool for cleaning businesses looking to take control of their presence on Google's search engine. An optimized Google Business Profile for cleaning companies can help new clients discover your business and ultimately increase your sales and revenue.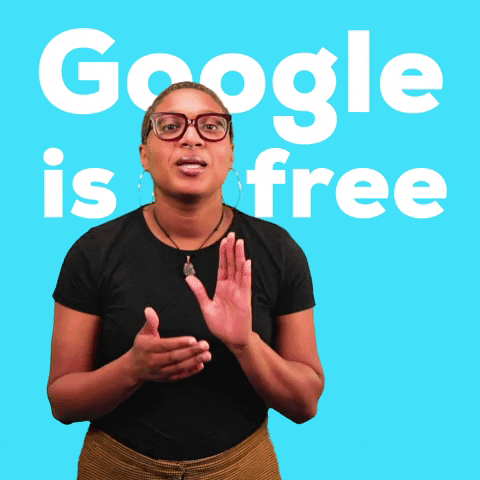 The best part? It's free!
In this article, we'll cover the basics of Google Business Profile and how you can grow your business with GBP, formally known as Google My Business (GMB).
What you need to know about Google Business Profile
While Google Business Profile is relatively straightforward, there are some details that can take your GBP knowledge to the next level. Before jumping into the details about how to use GBP for commercial cleaning, we've rounded up some important terms you should know.
Important terms
GBP
Your Google Business Profile (GBP) is your business listing on Google.
GMB
Google My Business is the old name for Google Business Profile. The GMB app has been replaced by the Google Business Profile manager on Google Search or Google Maps.
SERP
The SERP (or Search Engine Results Page) is the page of results you're shown when you conduct a search on Google (or any other search engine).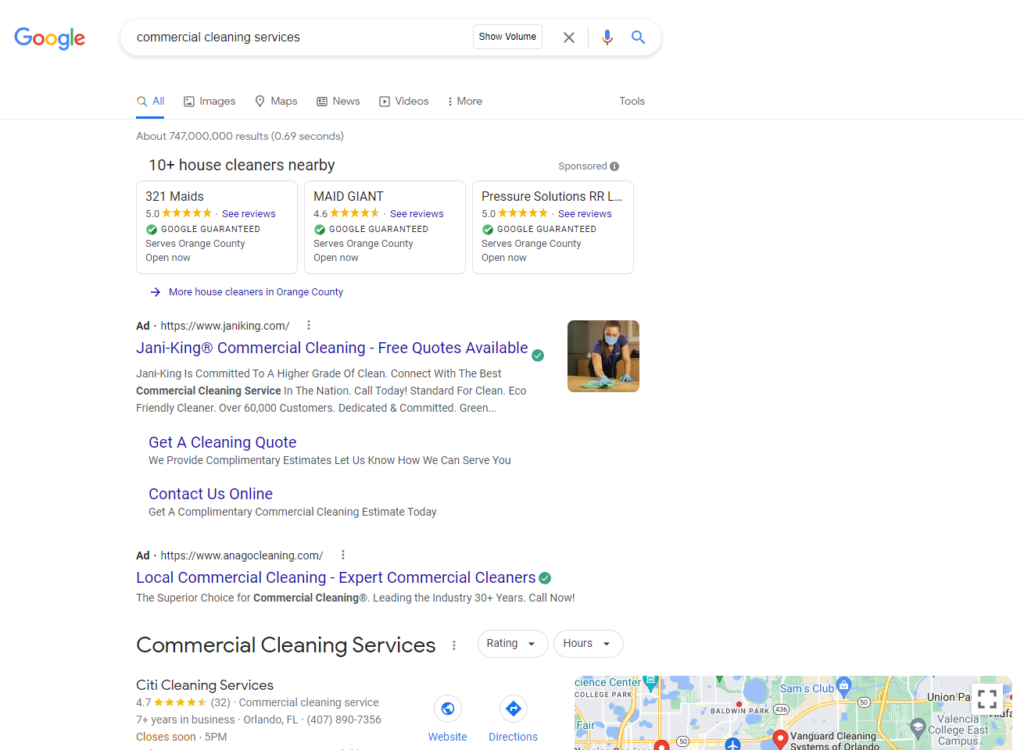 Listing
A listing is your business profile on Google or another business directory.
Rankings
Your ranking is the number (or position) you appear on Google's (or another search engine's) SERP.
Search Term
Is the keyword or phrase that a searcher uses to find answers to their query.
Signals
Data from your website or GBP listing that Google collects to better target ads and search results.
Keyword
The search terms you want your business to appear for on the SERP.
Citation
A mention of your business on external pages (map sites, directories, etc.) is considered a citation.
What is the SERP and how does it work?
The Search Engine Results Page is the page that is shown to users after they hit search on a search engine like Google.
Search engines analyze the search query to determine intent – what it believes the user is looking for. The algorithm then filters through millions of pages that match the search query and displays the results that it believes are the best answers to the user's question.
It then displays those resources on a search results page. Most SERPs typically feature 7-10 organic (unpaid) results.
How are Google Search results organized?
After you conduct a Google Search, you're likely to see a lot of different types of results on the SERP. This is a carefully curated selection of results and resources to help answer your question. Whether you're asking something simple like "What is pizza made of?" or looking for a solution like "The best cleaners in Atlanta, GA," the results will be tailored to the search.
Here is a breakdown of some of the top ways Google organizes your search results.
Google Ads
Google ADS are results that typically are shown at the top of the search results page. These spots are paid for by brands or businesses who want to appear for certain search terms. Depending on the keyword, ads can be targeted locally or to a broader audience.
Local Pack Results
Google's Local Pack appears at the top of the search results, just under Ads. It includes a map and typically 3 local listings that match the search intent. The first local listing in the Local Pack typically gets 16-17% of all clicks.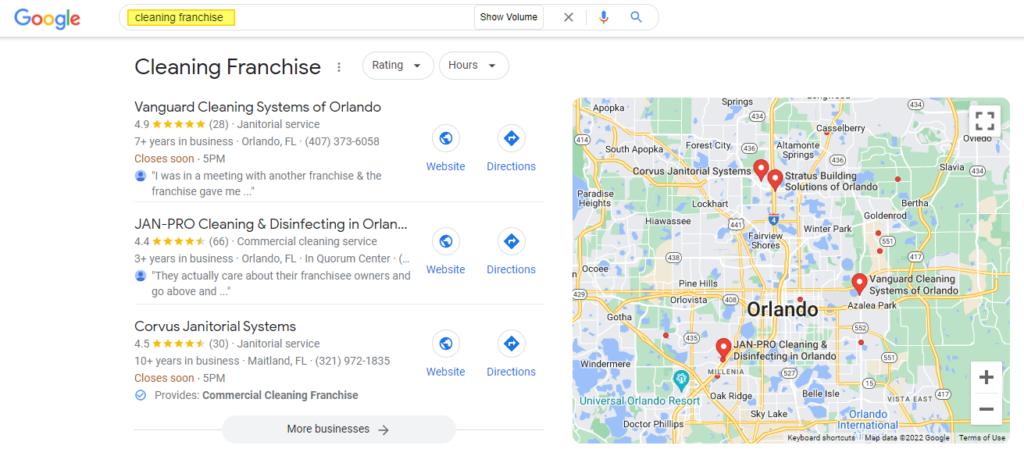 Is important to highlight that you can only appear in the Local Pack Results if your business has a Google Business Profile listing.
Organic Search Results
Organic Search Results account for everything after the Ads and Local Pack Results. The organic search results are generated based on several different factors. However, this typically breaks down to if Google views the content as high-quality and if it matches the search intent.
Being the first organic search result is a coveted spot, with approximately 25% of all users clicking on the number one organic result, even with a Local Pack above it.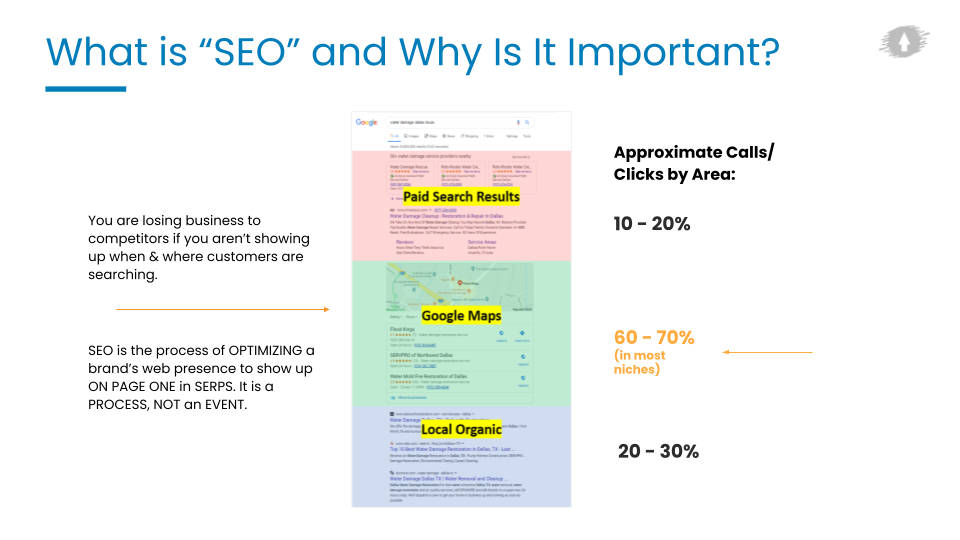 What is Google Business Profile?
A Google Business Profile (formally known as Google My Business) is an essential tool that lets you create a business listing within Google's search engine.
A Google Business Profile can help your business generate more visibility.
A GBP Listing allows you to update several pieces of key information to help customers connect with your business, such as:
● Contact info
● Address
● Customer reviews
● Services you offer
● Business description
● Business hours
● Attributes (including special features)
● Images and videos
Many of these profile details are also used by Google to help share your listing with relevant users. Making sure to include as many details as possible is the best way to make your listing stand out!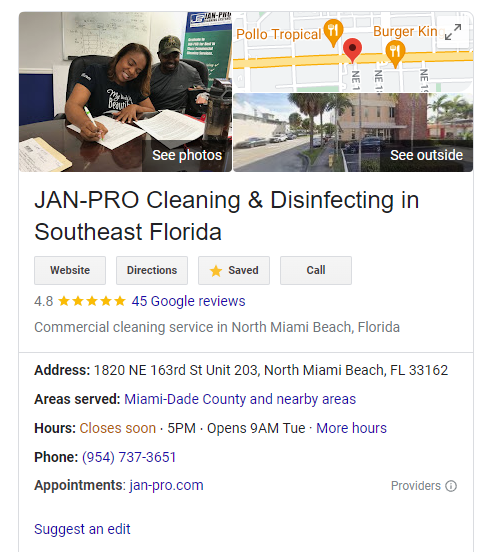 How does Google Business Profile work?
Google's goal is to display results that are most likely to accurately answer a user's search. To help determine which results are the best, Google uses a variety of different factors and signals to determine which Google Business Profiles to display to users.
Here are some of the main criteria that will impact how your Google Business Profiles show up on the search results page.
The main criteria
Relevance
This means how fitting are your services or products regarding what the user is looking for.
For example, if a user is searching for "the best office cleaning service in Miami", Google most likely won't display a business that does not have "office cleaning" listed as one of their services, since it's not relevant to the search inquiry.
Proximity
Most Google Business Profiles are for businesses that serve a specific geographic area or location. So it's important to display a result that can be used by a local user. For example, the results won't show a business in New York for a user searching for cleaning services in Los Angeles.
Also, it is important to know that Google favors local businesses, and the businesses that are nearer to the user are most likely to appear first for that particular search.
Prominence
If the first two criteria are met, Google will then prioritize business listings based on their prominence. Is it popular in the area? Does the business have good reviews? Is the business a well-known franchise?
What is Google looking for?
Google's mission is to make search results useful and relevant for the user. Whether the search is simple or requires more complex resources, every result is geared towards improving the user experience.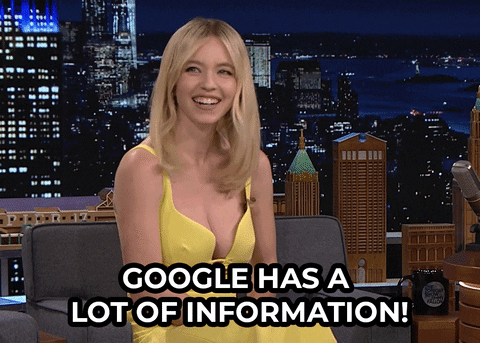 There's no complete set of rules to having a strong presence on Google. However, the top-ranking Google search results typically have the following attributes in common.
Expertise
Part of ensuring that results are useful for the user is guaranteeing that users are getting information from resources that have the expertise to deliver that information.
Do you have years of experience in the cleaning industry? Are you an awarded cleaning franchise? Is time to let Google know.
Authority
Sites and listings with authority are reputable and viewed to be trustworthy sources of information. You can gain authority through citations and backlinks, which indicate to Google that your information is being shared by others.
Trustworthiness
The final quality that Google values is trustworthiness – whether or not users can trust your content and website. You can often improve trustworthiness by linking to reputable sources, asking for reviews and testimonials, and posting photos of your latest cleaning projects or success stories from your franchisees.
But expertise, authority, and trustworthiness are just concepts that will help us understand what Google is looking for. Now, what are the visible, actionable factors that will indicate to Google that your business has expertise, authority, and trustworthiness?
What specific factors affect Google's ranking?
Appearing in the Local Pack and in the top organic search results requires your business to meet a certain set of factors and criteria. They help Google determine whether your listing or website matches what they're looking for.
While the algorithm isn't entirely black and white, here are some of the top factors that affect rankings on Google:
Google My Business listing
Do you provide enough information to the user? Does your category match the services your business offers? Do you post frequently?
Reviews
How many reviews does your business have? Are they trustworthy, high-quality, and diverse? Do all of your reviews have answers to them? Reviews are a really important thing when it comes to rankings and trustworthiness.
On-page
Is the content on your page optimized for relevant keywords and topics? Does it include your name, address, and phone number? Is your content valuable?
Links
Are there reputable and authoritative sites that link to your website or listing?
Behavioral
Are users clicking through and engaging with your listing?
Citations
Is your listing being included and linked to in local directories?
Personalization
Does your listing match the location, language, and other personal factors of the searcher?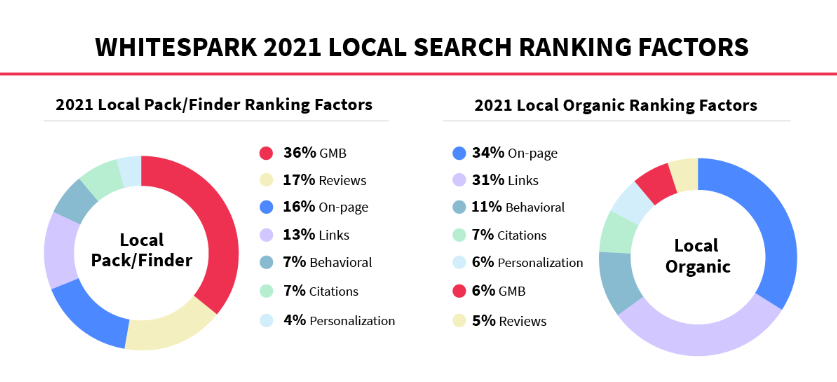 Many of these factors can be built naturally over time to improve your rankings, such as reviews and citations. However, some optimizations, like on-page SEO and backlinks require a bit more thought to help your cleaning business rank successfully.
Cleaning In Motion's SEO and Reputation Management services can help improve your cleaning company's reputation and enhance your online visibility.
How to properly optimize a Google Business Profile for Cleaning Companies?
For cleaning companies, having a well-optimized Google Business Profile can significantly boost online visibility and attract potential customers. Follow the steps and checklist below to make sure you're taking full advantage of this powerful tool.
Claim and Verify Your Business: The first step in optimizing your Google Business Profile is to claim and verify your business. This will ensure that you have full control over the information displayed on your profile.
Checklist:
Claim your business on Google.
Verify your business by following the instructions provided by Google.
Complete Your Business Information: Provide accurate and up-to-date information about your cleaning company, including your business name, address, phone number, and website. Make sure to include your main keyword as part of your description to make it more appealing to both users and Search Engines.
Checklist:
Ensure your business name is accurate and consistent across all online platforms.
Provide a complete and accurate address, including suite numbers if applicable.
Use a local phone number to establish trust and credibility with your customers.
Add your website URL to make it easier for customers to learn more about your services.
Choose the Right Business Category: Google uses business categories to help users find the most relevant results. Selecting the correct category for your cleaning company is essential for better visibility. Always add secondary categories to help your business be more appealing to users.
Checklist:
Choose the most specific category that describes your cleaning services (e.g., "Commercial Cleaning Service" or "Residential Cleaning Service").
Avoid using generic or unrelated categories, as this can hurt your search ranking.
Add High-Quality Photos: Visuals are important in capturing users' attention. Upload high-quality photos of your cleaning team, equipment, and before-and-after examples of your work.
Checklist:
Include a professional and appealing cover photo.
Upload at least 5-10 high-quality photos showcasing your cleaning services.
Update your photos periodically to keep your profile fresh and engaging.
Encourage Customer Reviews: Positive reviews not only establish trust and credibility but also contribute to your search ranking. Encourage satisfied customers to leave reviews and respond to them professionally.
Checklist:
Request reviews from happy customers through email or in-person.
Respond to both positive and negative reviews, demonstrating your commitment to customer satisfaction.
Avoid incentivizing reviews, as this goes against Google's guidelines.
Use Google Posts: Regularly create Google Posts to share updates, promotions, or news about your cleaning company. This will keep your profile active and engaging.
Checklist:
Publish at least one Google Post per week.
Highlight special offers, promotions, or seasonal services.
Use relevant keywords and hashtags to increase visibility.
Monitor and Update Your Profile: Regularly review and update your Google Business Profile to maintain its accuracy and relevance.
Checklist:
Check your profile at least once a month to ensure all information is up-to-date.
Update your business hours during holidays or special events.
Keep track of your profile performance and make necessary adjustments to improve visibility.
By following this checklist, you'll optimize your cleaning company's Google Business Profile, increasing visibility and attracting more customers to your business.
Why is this important for your commercial cleaning business?
Search engines are one of the top ways that customers discover new businesses. Your commercial cleaning business is no exception.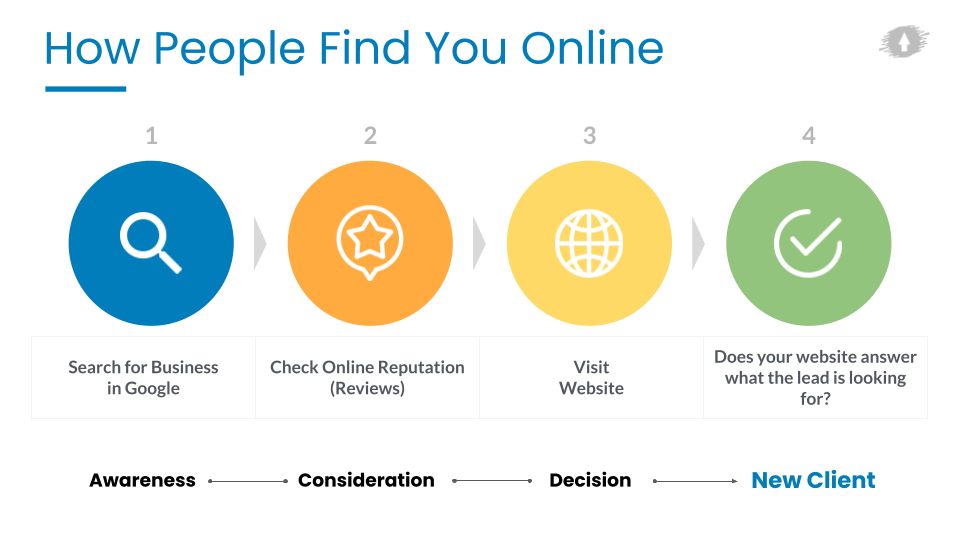 As a commercial cleaning business, your goal should be increasing visibility to get new clients and leads. One of the best ways to do this is by appearing on the Local Pack and ranking on the first page of the SERP.
Even if you're seeing natural growth, creating a Google Business Profile can help you get new clients easier and faster. An optimized GBP with the right signals can do the heavy lifting by converting new users and targeting the right audience for your business.
Plus, by managing your GBP regularly you can use this as a channel to communicate updates with new customers and manage reviews.
While creating a Google Business Profile can seem overwhelming, it's one of the easiest (and free) ways to grow your commercial cleaning business.
Not sure where to start? Cleaning In Motion can help! We're here to support your cleaning business with all your digital marketing needs, including creating and optimizing a Google Business Profile for your cleaning company. Get started by scheduling a free 30-minute consultation with our team today.