With over 830 million members, LinkedIn is a hotbed for potential clients. However, many of us forget that LinkedIn is a social network and not just another website for your business.
It has features that can be used to optimize your networking by getting in touch with people whose needs are similar to those of the client you're trying to get. LinkedIn's Sales Navigator is a powerful tool that you can use to expand your client base.
One of the best ways to get more cleaning clients using LinkedIn Sales Navigator is by building a targeted network of potential customers who are likely to be interested in your services. It involves identifying the ideal target market and then creating connections with people within that group.
Here's an overview of how you can use LinkedIn Sales Navigator for commercial cleaning marketing.
How Much Does LinkedIn Sales Navigator Cost?
LinkedIn Sales Navigator has the following paid plans.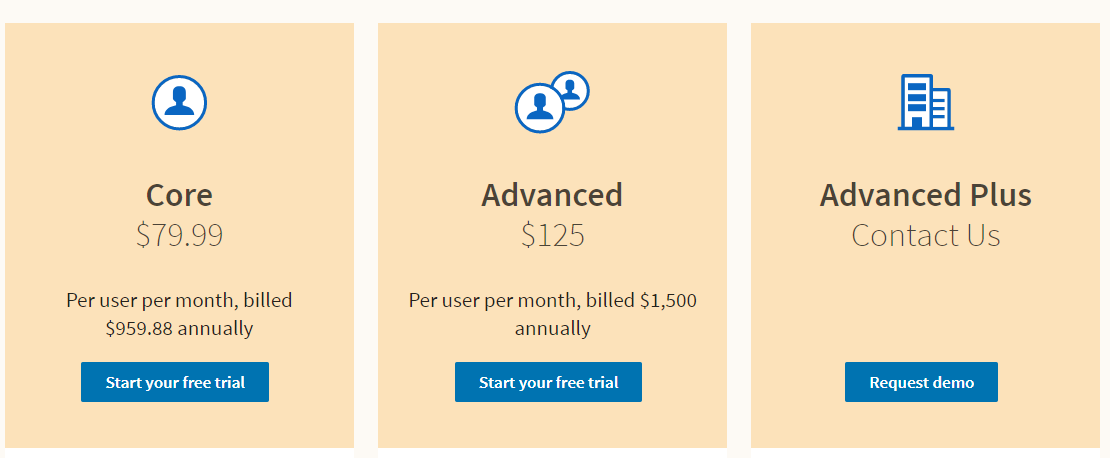 Core
Advanced 
Advanced Plus 
It costs $79.99 monthly per user and is billed at $959.88 annually. You get the following features at this price:

– Advanced company and lead search
– Custom Lists
– Alerts on saved accounts and leads
Meanwhile, the Advanced plan costs $125 per user per month and is billed at $1,500 annually. Here are the features of this plan:

– Content sharing
– Engagement tracking
– Extended network access (unlimited searches)
You can also opt for the Advanced Plus plan if you need extensive support and more features. The pricing depends on your needs. Some features of this plan include:

– Advanced enterprise integration
– CRM updates
– Integrated CRM contacts
Why Use LinkedIn Sales Navigator?
While LinkedIn's regular version is a great way to find clients and industry professionals to network with, it can be a bit limiting. Meanwhile, the Sales Navigator is a better version designed for salespeople and other professionals who want to get the most out of LinkedIn.
One of the main advantages of using Sales Navigator is that it allows you to create far more targeted searches than the regular version. For example, you can search for someone based on their job title, location, company size, or even revenue.
Instead of scouring through thousands of search results that are of no value to you, the filters allow you to narrow your search to leads that meet your criteria.
Suppose you're on the hunt for a facility manager for your cleaning business. With the filters on Sales Navigator, you can search for people who work in that role at large companies based in a particular location. You can also filter your search by company revenue and other factors, such as location and years of experience.
How to Use Sales Navigator for Commercial Cleaning Marketing?
Before you start using the tool, it's important to create a customer profile. Here are some things to consider:
Primary Target: Who is your ideal target customer?
Customers: Who are your current customers?
Sales Process: What's your sales process? How do you go about acquiring new customers?
Channels: What channels will you use to reach your target market?
Leads: How will you generate leads?
Pain Points: What are your customers' pain points? What do they want to accomplish with your service?
Once you have a customer avatar, you can start using the Sales Navigator. The tool allows you to filter the search results according to your requirements.
Suppose you want to look for a facility manager in Manhattan, New York. Plus, you want the manager to work in the cleaning industry and have no less than five years of experience.
Start by searching for "facility manager" in the search bar. Once you see the search results, you can choose the filters on the left-hand pane to narrow your search.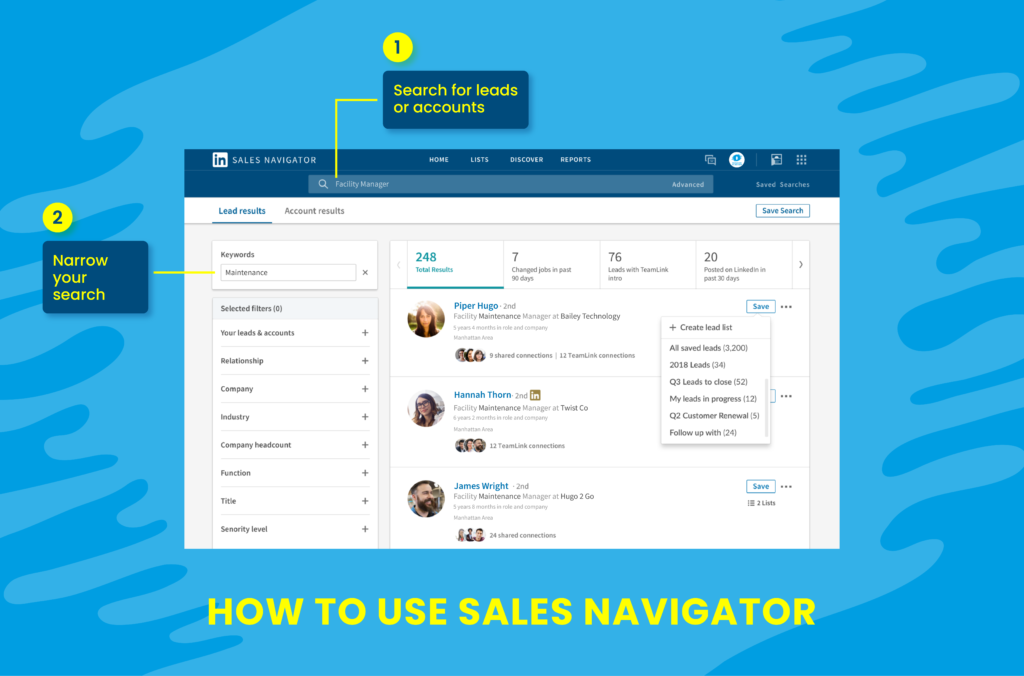 For instance, you can specify the location in Manhattan and choose the relevant business sector. Likewise, you can specify the experience as five years or above. If you're looking for someone in a specific position in a company of a certain size (in terms of employees), you can do that too.
With every filter application, you'll see the search results thinning. After you've specified all requirements, you'll finally see a precise list of people who're of use to you.
How to Generate Commercial Cleaning Leads with LinkedIn Sales Navigator?
LinkedIn Sales Navigator has several features that prove handy during lead generation. Here are the most notable ones.
Advanced Search
The tool's advanced search lets you find two things: people and companies. When using the advanced search to find relevant people, you'll find a number of filters, such as:
Their company size
Their company type
If they're still working at the company
Their current position and industry
Their first and last name
Leads who follow the person's company
The date they registered on LinkedIn
Meanwhile, when you use the advanced search to find a company, you can use the following filters:
Headcount growth
Revenue
Size
Size of a certain unit
Location
Industry
Job opportunities
Recent hierarchical changes
Subscriber count
Boolean Search
Boolean Algebra refers to a search method that allows the searcher to use specific keywords and operators (such as AND, NOT, and OR) to find a precise set of results.
When you use Sales Navigator, you can specify the following operators:
AND: You can search for a facility manager AND cleaning. It will give you results for people who have both keywords in their titles.
NOT: You can use this operator to eliminate certain results from your search. For instance, you can search for facility managers NOT residential to find facility managers who don't work in the residential cleaning industry.
OR: You might want to search for two different keywords, such as sales AND marketing. This operator lets you do just that without having to run two separate searches.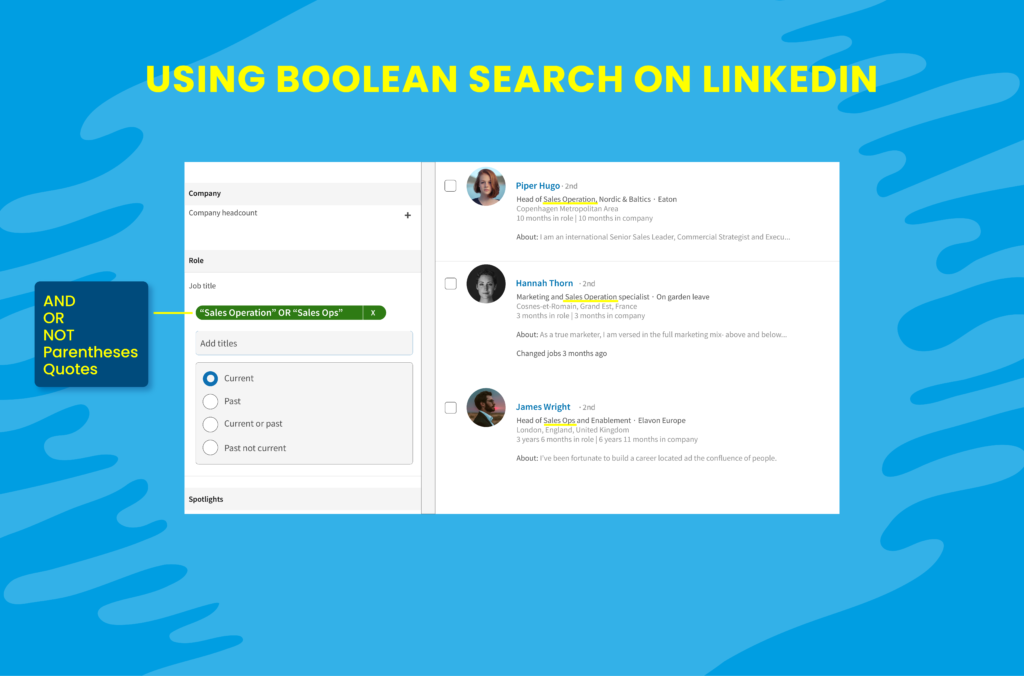 LinkedIn Groups
With the Sales Navigator, you can also target professionals or niche-specific personnel in LinkedIn Groups. It can help you find experts in other commercial cleaning companies.
For instance, you can use Sales Navigator to find members of ISSA (The International Sanitary Supply Association). It's a professional network of individuals who work in the cleaning industry.
Prospect Tags
You can use the Sales Navigator to assign tags to certain people based on your marketing actions. For example, you may tag people whose network you want to join.
Likewise, you might sign prospect tags to people to whom you want to send a welcome message. You can also save the searches in your dashboard.
For instance, if you want to start a prospecting campaign, you can save your prospects from the search you just used. Then, you can send a personalized email to these people to promote your cleaning services.
Published Keywords
LinkedIn Sales Navigator also lets you target the group of people who have used certain keyword hashtags in their published posts. For example, you can target those who've used the hashtag "#cleaning" in their posts.
You can also target those who've talked about certain topics, such as:
Cleaning tips
Hiring a cleaning company
The benefits of having a clean office space
Cleaning methods
How often should you clean your office
Since these people are already talking about your industry or services, you have a higher chance of driving qualified traffic to your conversion funnel by targeting them.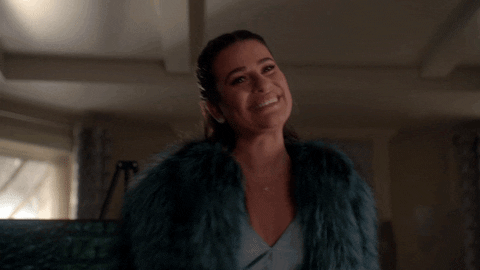 Sales Spotlights
Sales Spotlights are a series of updates that LinkedIn sends you about your targeted accounts. These updates include information about:
The account's recent activity
Changes in their profile (e.g., new job title, new company)
Their latest content engagement
Mentions of them in the news
You can use this information to further qualify your leads and determine the best time to reach out to them.
For example, if you see that one of your target accounts recently published a blog post about the benefits of commercial cleaning services, you can use that as an icebreaker in your outreach email.
Outreach and Messaging
Besides Sales Navigator, you also get InMails. It allows you to send messages to members of your target audience, even if you're not connected to them.
InMail is sort of an email sent directly from the platform that differs from standard messages. It generally has a higher click and open rate.
Suppose you want to use InMail to reach out to a decision-maker in a commercial cleaning company. You can use the following template:
"Hi (name),

I saw that you're in the (position) at (company). I'm reaching out because we offer (commercial cleaning services) that can help businesses like yours save time and money.

I would love the opportunity to explain how our services can help improve your operations. If you have time next week, I'd be happy to schedule a call or meeting with you.

Looking forward to hearing from you soon!"
With Sales Navigator and InMail, you can reach out to more prospects and start building meaningful relationships with leads in your niche through commercial cleaning and janitorial marketing.
Final Words
LinkedIn Sales Navigator is a game-changer for businesses that want to grow their market reach in the cleaning industry. With its powerful features and targeted outreach capabilities, you can quickly identify and connect with potential customers, directing them to your marketing funnel.
And, if this sounds like a lot, remember we are here to help! Just schedule a free consultation today and let us take your business to the next level.