Digital Marketing Services Tailored for Your Cleaning Business Success
Your marketing strategies should be as unique as your company. At Cleaning in Motion, we provide customized marketing plans to build your online presence around your strengths. Here are just a few of the services we offer to make that possible.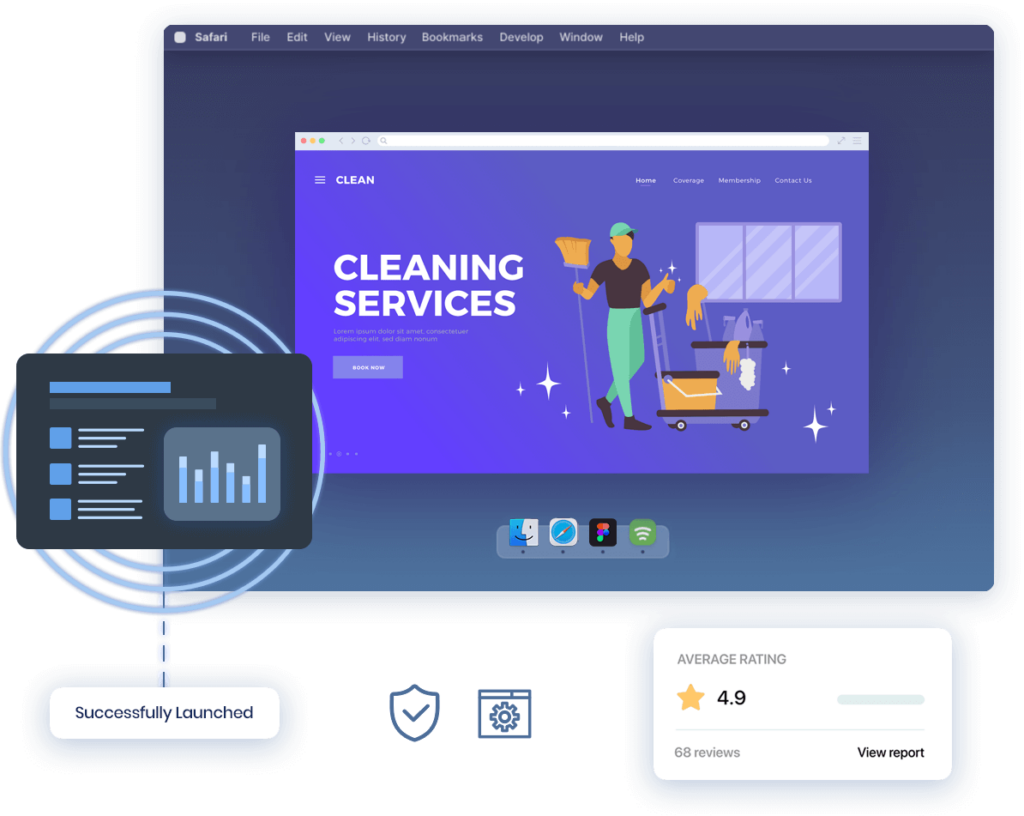 How we can help your Business
Whether you are an established business looking to grow or a new one ready to take off, we have the janitorial marketing expertise to help your commercial cleaning company succeed in finding more potential clients from your target audiences.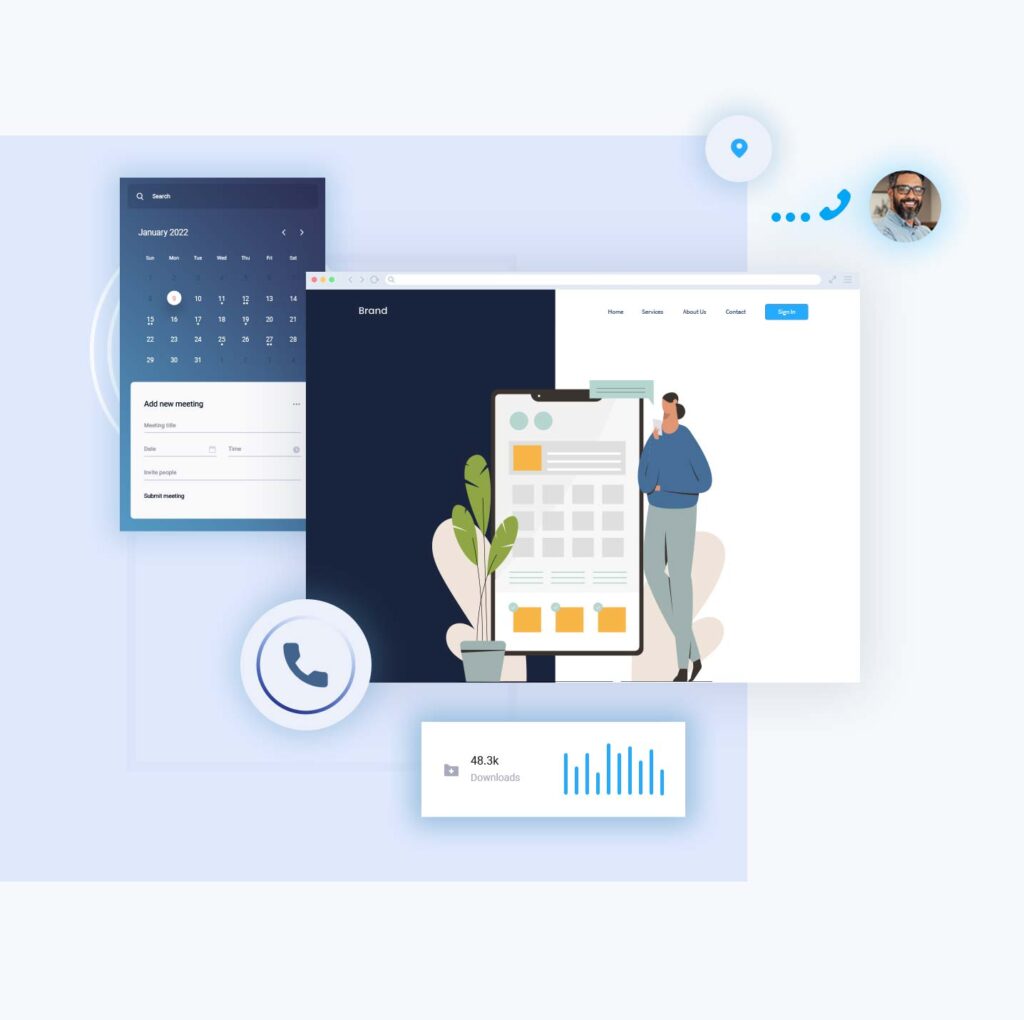 Cold calling and Appointment Setting
Accelerate your business growth and book more appointments with our special, highly trained team of appointment setters. We can call your existing databases of leads who have been past clients, old prospects, or curate a database that matches your ideal customer profile.
Website & Landing
Page Design
First impressions matter. When someone visits your website for the first time, you not only want them to stay but to return time and again. We create stunning websites and landing pages that retain customers and reduce the bounce rate.

Don't have a website? Don't worry about it—we build beautiful websites from scratch so that new and potential customers can find you online. Your website will also provide a place to promote your company's events, offer discounts, and engage visitors with blog posts.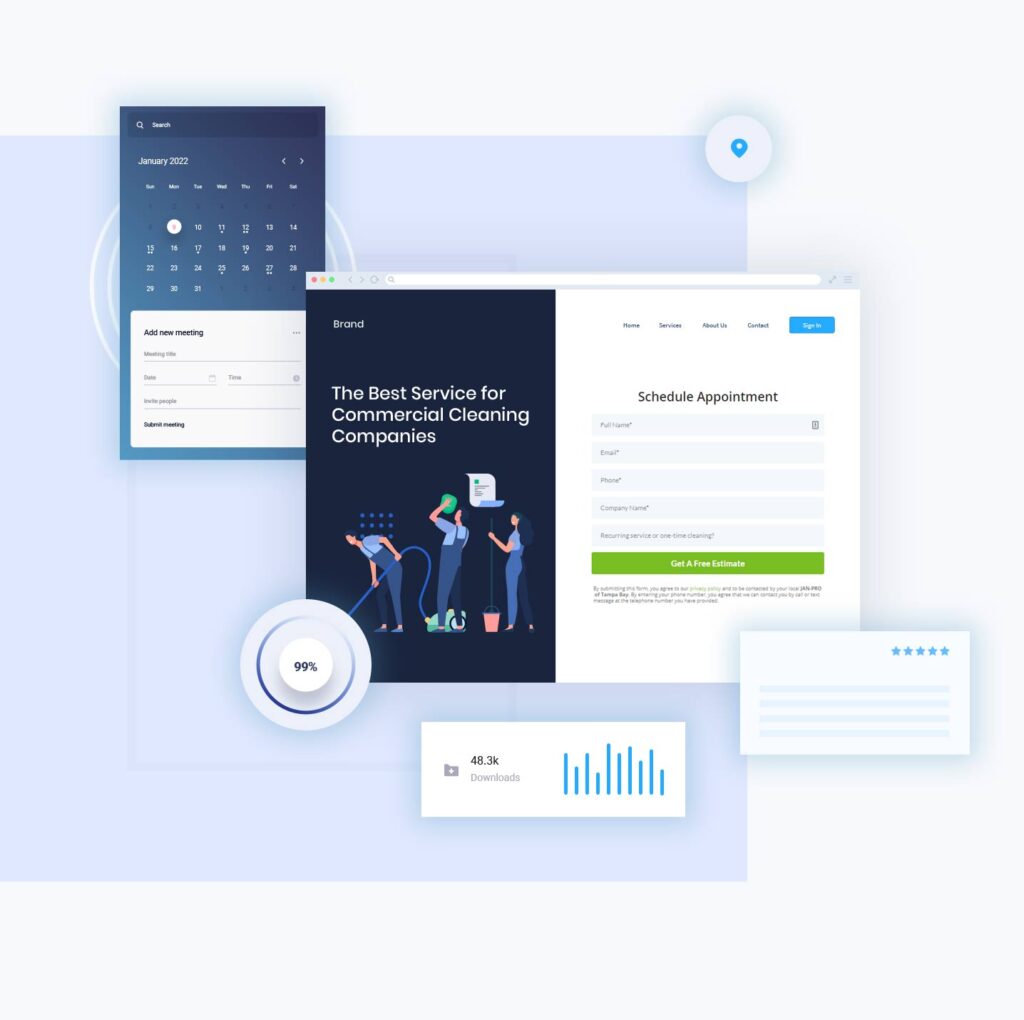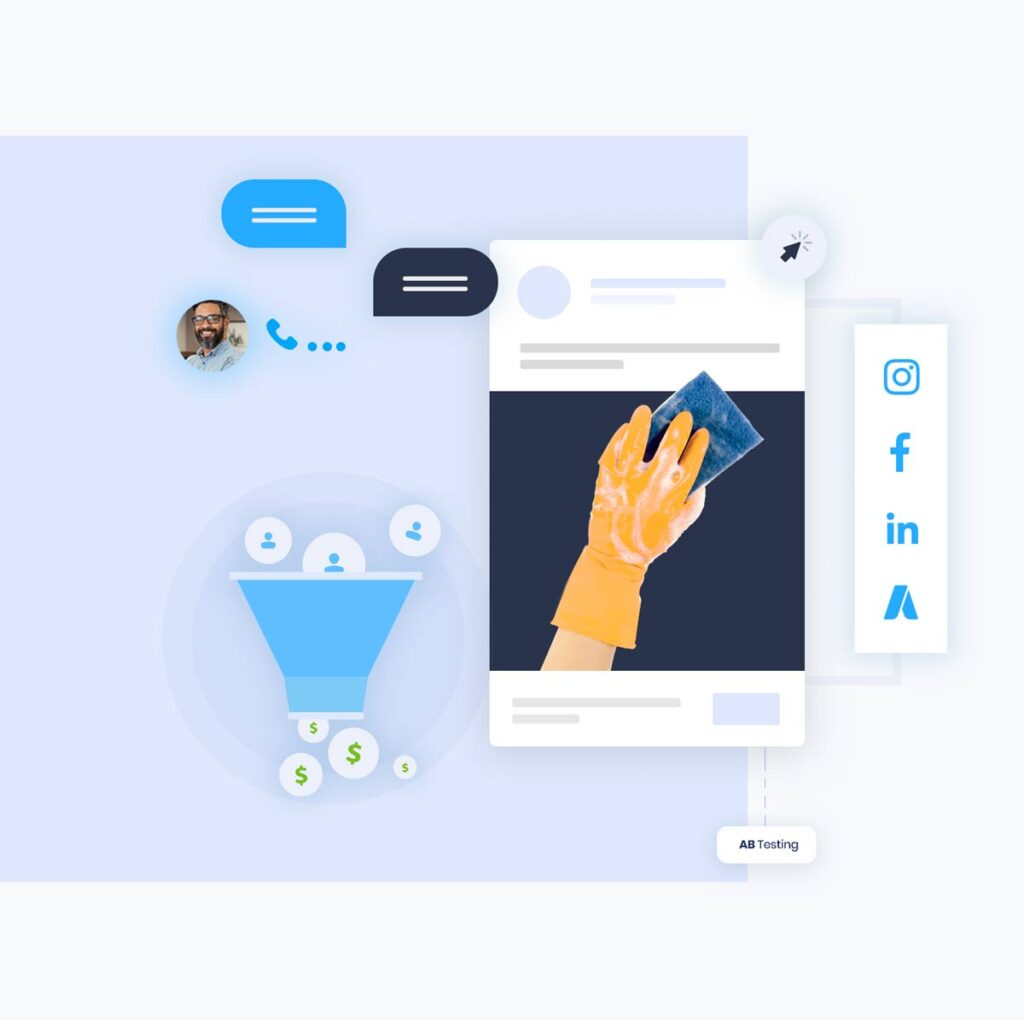 More than three billion people are active monthly users on Facebook. It's a gold mine for attracting new clients if you can harness the power of its advertising platform. At Cleaning in Motion, we develop effective Facebook advertising campaigns that generate a steady stream of new customers for your commercial cleaning business.

We don't just cast a wide net and hope for the best, though. Our digital marketers use advanced techniques to display your Facebook ads to "warm" potential customers. This tailored approach ensures that you have the lowest customer acquisition cost possible.
Google Search is the most-visited website in the world, and it's not even close. We leverage its advertising platform to find, attract, and convert potential commercial cleaning clients. Best of all, you will start seeing results in as little as one day.

Posting on Google Ads using pay-per-click (PPC) is good, but it isn't enough, though. Our team monitors the traffic and click-through rate to determine the best ads for your commercial cleaning business. The review process allows us to continually improve your ads and garner more clients in the future.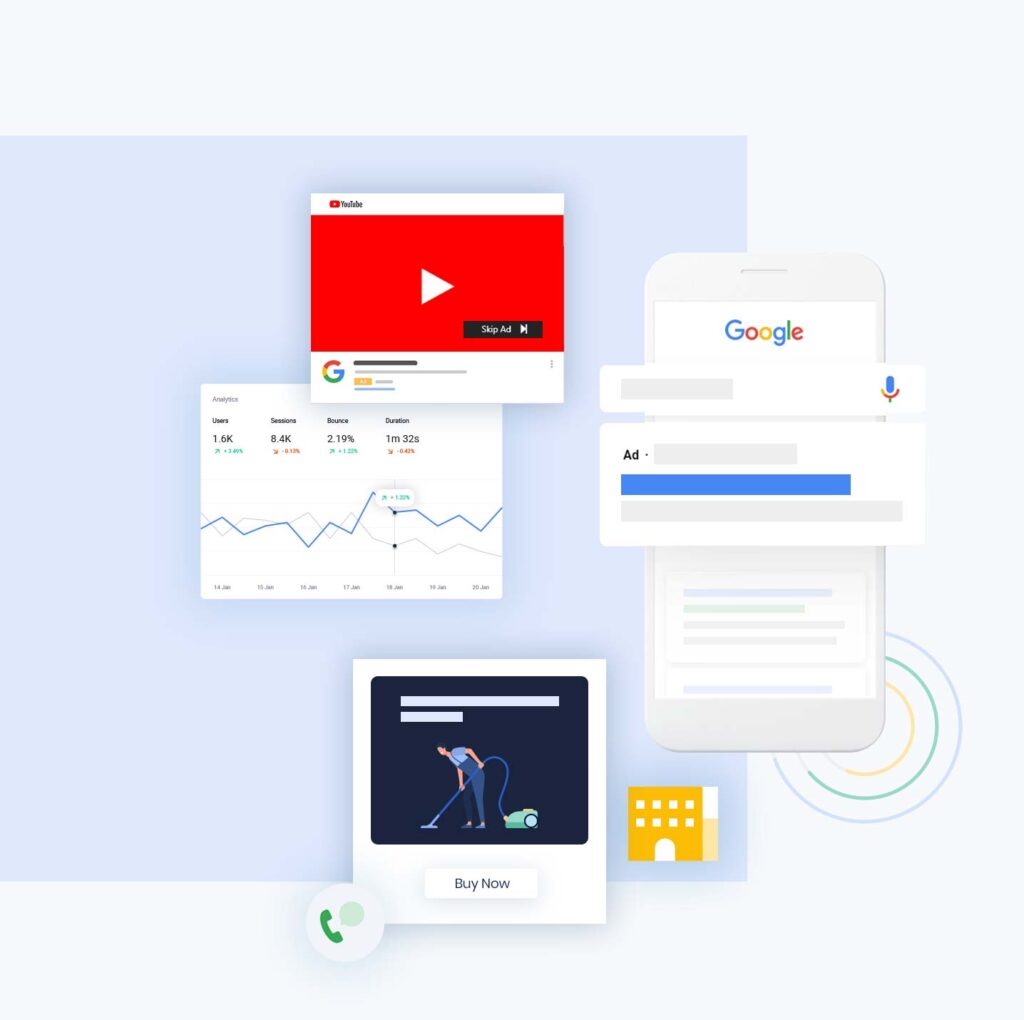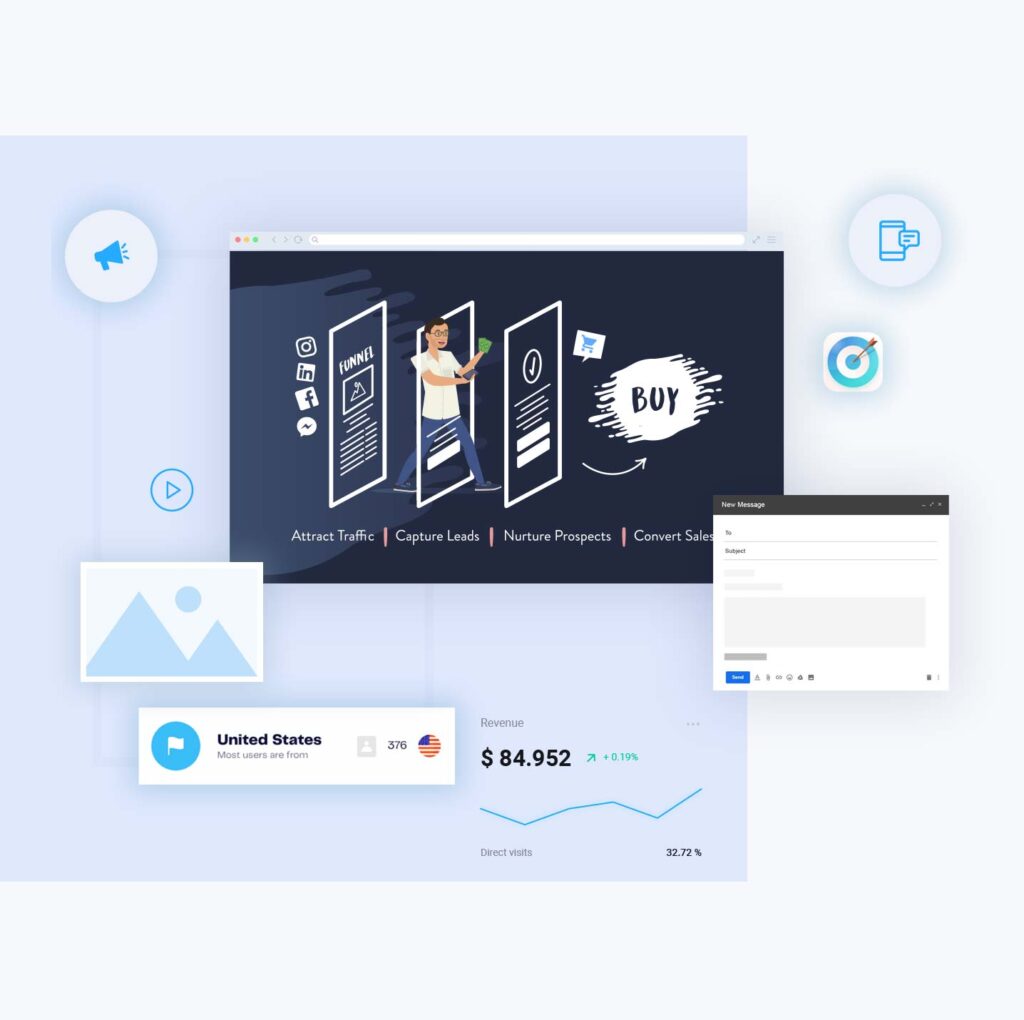 Your time is valuable. Why waste it on mundane tasks? At Cleaning in Motion, we implement marketing automation tools that get results in no time. That way, you can grow your marketing presence while focusing on the essential parts of your business.

One of the most effective ways to obtain new clients is through reengagement. This automated marketing tool shows ads to people who have visited your website or social media but haven't purchased anything. Because they showed interested in your company, we provide the gentle nudge they need to complete the transaction or the desired call to action.
SEO & Reputation Management
Search engine optimization (SEO) can make or break a company. We use proven techniques to enhance your online visibility and elevate your ranking for keywords on search engines, like Google, Yahoo!, and Bing. That includes bolstering your on-site, off-site, and technical SEO.

Our experts will also manage your digital reputation so that potential clients will see the best version of your company online. We highlight positive reviews and your company's success on your website and social media. That way, visitors will understand your organization's values and character.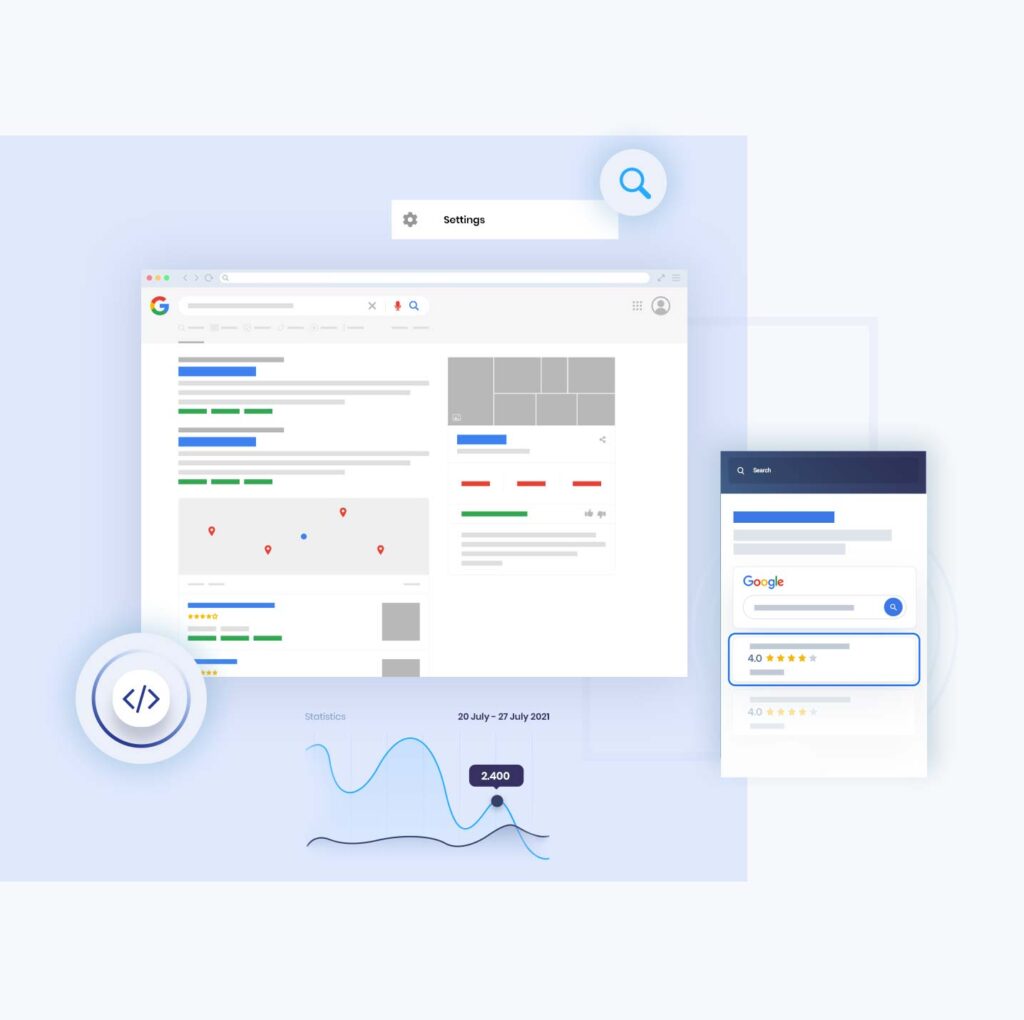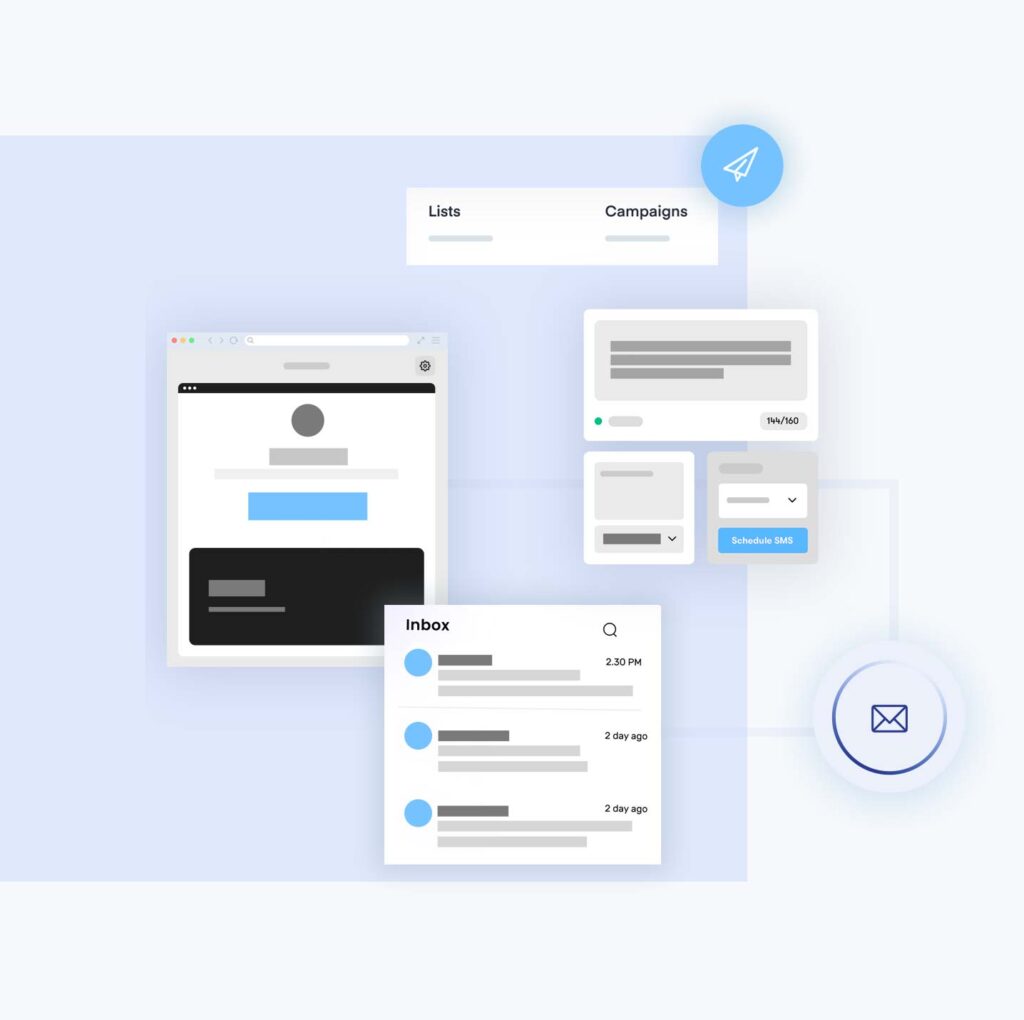 Staying in touch with your existing customers is an excellent way to grow your commercial cleaning business. Now, you can do precisely that with email marketing. We generate eye-catching marketing emails so that people think of your company when they need commercial cleaning services.
The best marketing teams know that their jobs don't have a finish line. It's crucial to look at data and analytics to understand what you're doing well and where you can improve. At Cleaning in Motion, we use these insights to determine your strengths and shore up weaknesses.

Optimization takes many forms. We analyze everything from the call to action on your landing page to the photos on your social media feeds. Our commitment to acquiring data that confirms digital marketing best practices ensures that your commercial cleaning business maintains a constant upward trajectory.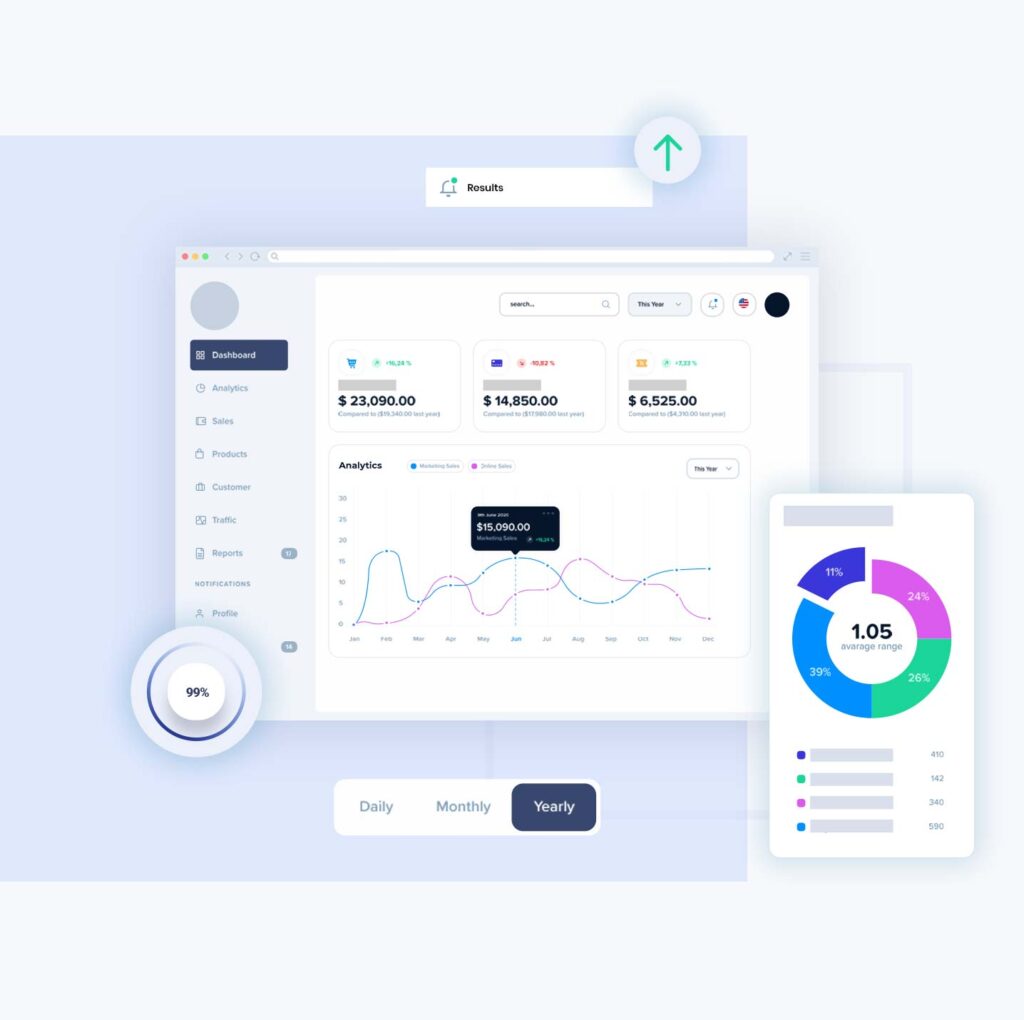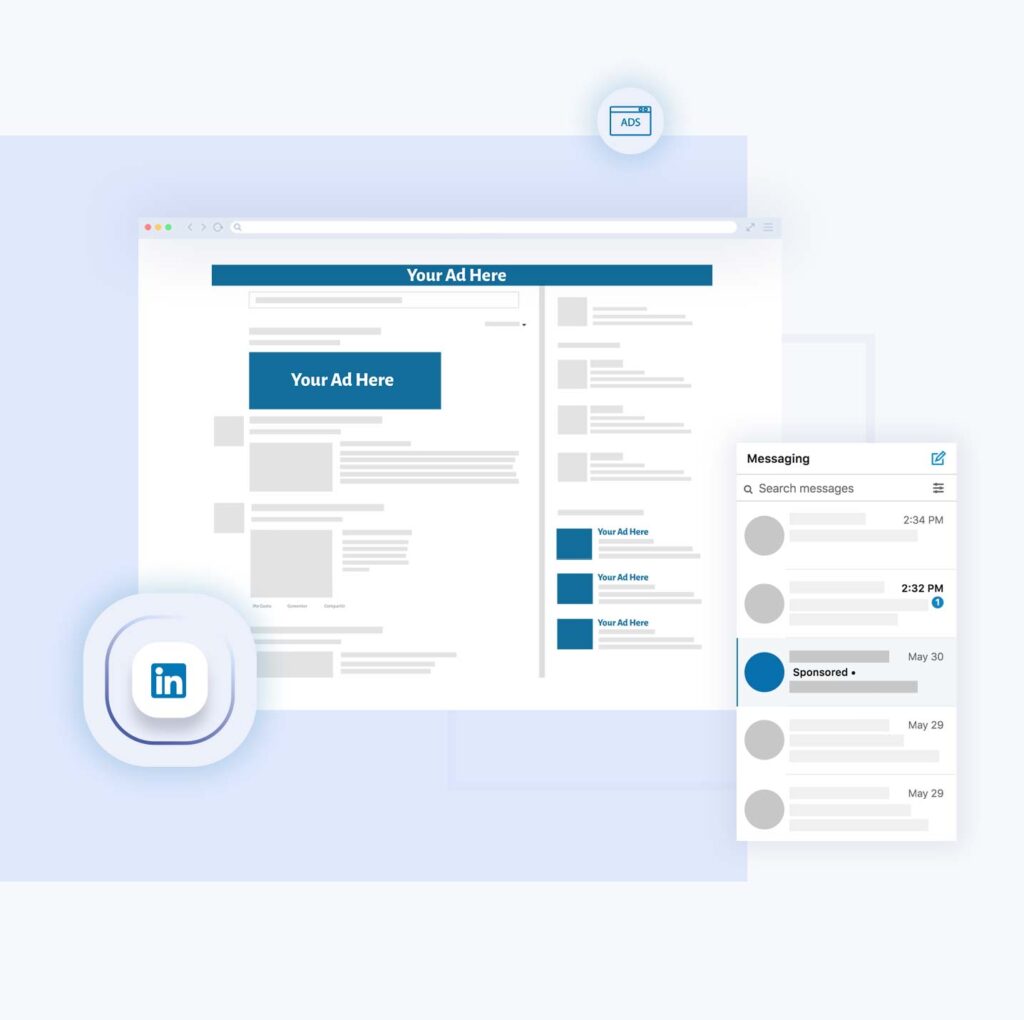 Get more leads from LinkedIn
Our app makes it easy to find and engage with high value qualify leads using LinkedIn
Outreach might sound scary, but it doesn't need to be — with our software we'll automatically nurture leads so they're in your pipeline faster than ever before.
You can find and talk to high-value people using LinkedIn. It is easy to make a lead generation funnel that runs itself. Our software will automate outreach to your audience, and our AI will go talk with your prospects until they're ready to talk. This is the safest, most advanced, LinkedIn platform for the cleaning industry.
Prospect, Nurture and Close 10X more deals

Grow your pipeline 24/7; consistent connection provides better quality leads while lowering cost per lead
We create Email, SMS, local SEO strategies and paid advertising campaigns tailored to your market and designed to target each step of your sales pipeline. We empower your team with tools, knowledge and email templates so no leads fall through the cracks.
7 Campaigns Every Cleaning Company Should Have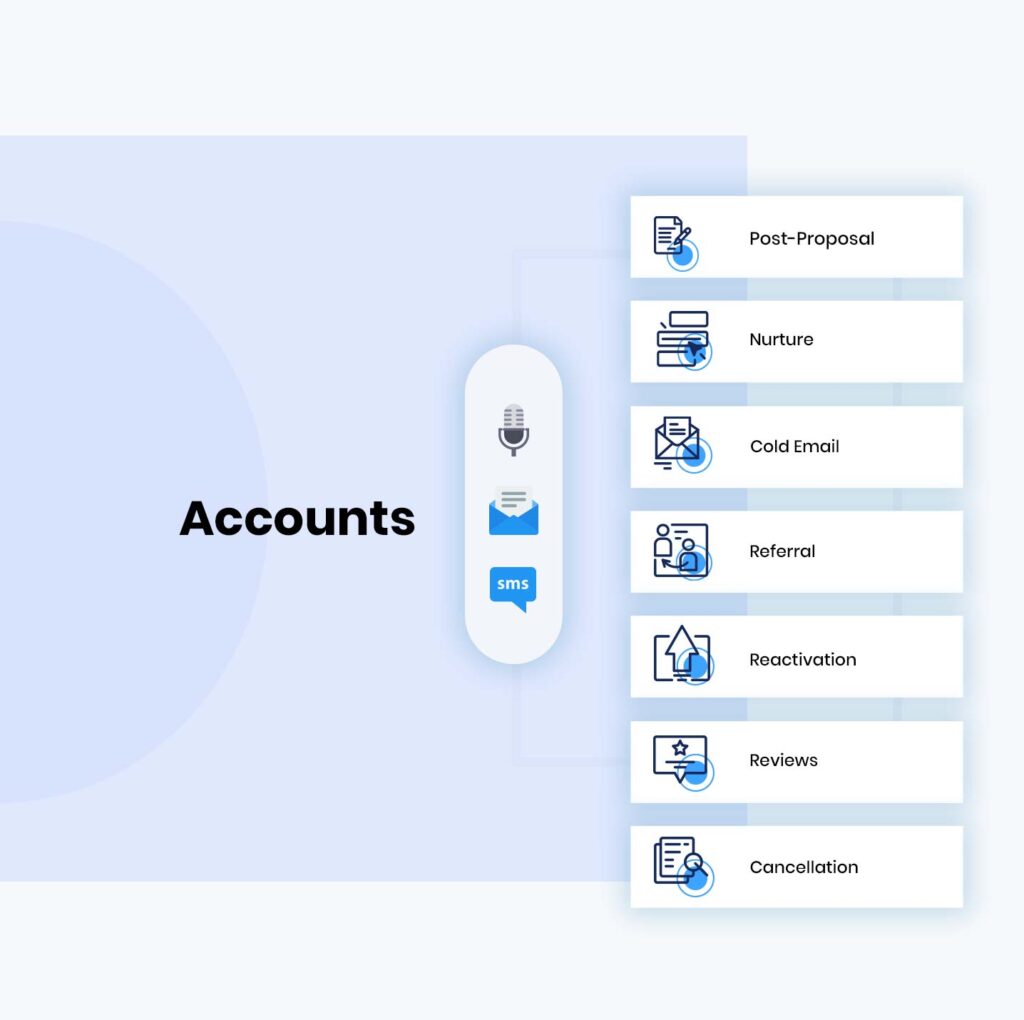 Professional Consulting Strategies
The adage is that "If you give a man a fish, you feed him for a day. If you teach a man to fish, you feed him for a lifetime." The same is true in the commercial cleaning industry.

Our consultants offer the strategies you need to grow your company now and in the future. We educate professional cleaning clients on the tools and technologies to build a sustainable business. We share the knowledge to attract potential customers, leverage social media, and generate more revenue.

At Cleaning in Motion, we serve as your guide through the commercial cleaning industry. We walk you through all the obstacles that business owners face when it comes to digital marketing. A strong foundation can make all the difference in the long-term success of your commercial cleaning enterprise.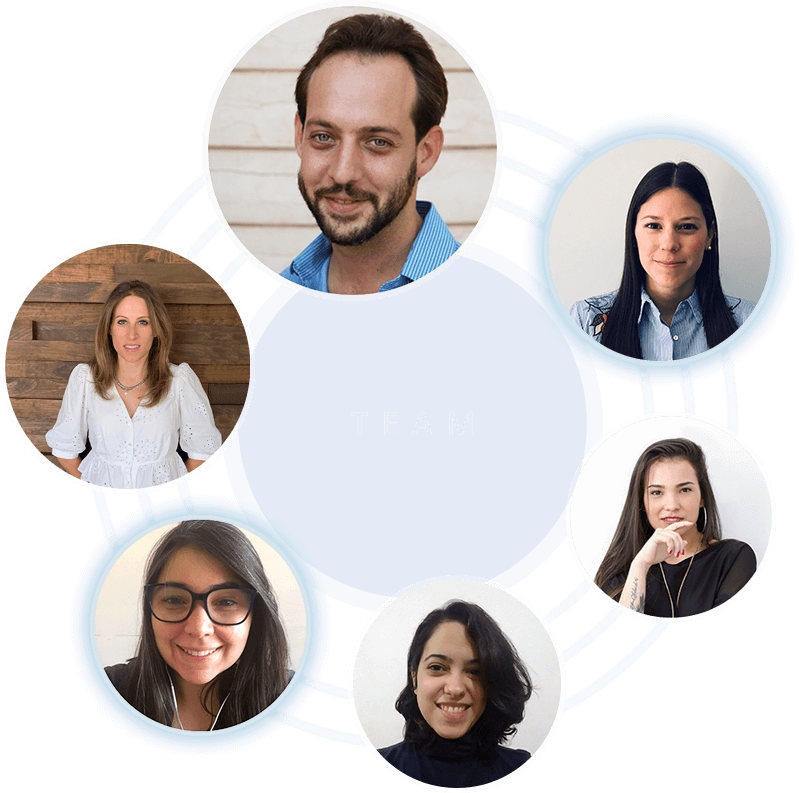 Commercial Cleaning Marketing FAQs