TikTok has witnessed massive growth in app usage and popularity within the span of a few years. What started as a platform for sharing videos of users dancing and lip-syncing to trending music now houses more diverse videos and has become a powerful marketing platform for businesses.
With over 80 million monthly active users in the U.S., it's no wonder many businesses are turning to TikTok ads to reach potential customers. If your commercial cleaning company hasn't jumped on the TikTok bandwagon, now is the time. This platform offers your business a unique opportunity to reach prospects and get more clients.
And what business couldn't use a few more customers? Certainly not commercial cleaning businesses.
Below, we delve deeper into TikTok ads for cleaning companies and how they can help you generate a steady stream of unit franchises.
What Are the Different Types of TikTok Ads?
TikTok gives you different advertising options, so you can choose the most effective one to get your message across and reach your target audience. Here are the four main types of TikTok ads available:
| | |
| --- | --- |
| In-feed video: | These are videos that appear in users' standard newsfeeds under the "For You" icon. They allow you to showcase your products and services with creative videos of up to 15 seconds. |
| Brand takeovers: | The ads allow you to take over the user's screen for up to 5 seconds when they open the app. You get a lot of visibility with this ad format and can make a powerful statement about your business. |
| Top view: | Top View allows you to place your video at the top of users' "For You" page, and the ad can run for up to 60 seconds. Since these ads run longer than other types of TikTok ads, you'll have more time to tell your story. |
| Branded hashtag challenge: | This type of ad allows you to create an engaging hashtag that encourages users to join in on the fun. You'll find these types on TikTok's "Discover" page. They're a great way to increase brand awareness and create user-generated content around your brand. |
| Branded effects: | This ad type allows you to create special effects for TikTokers to use in their videos, like custom stickers and filters. This helps strengthen your brand identity as TikTok users share videos using these effects. |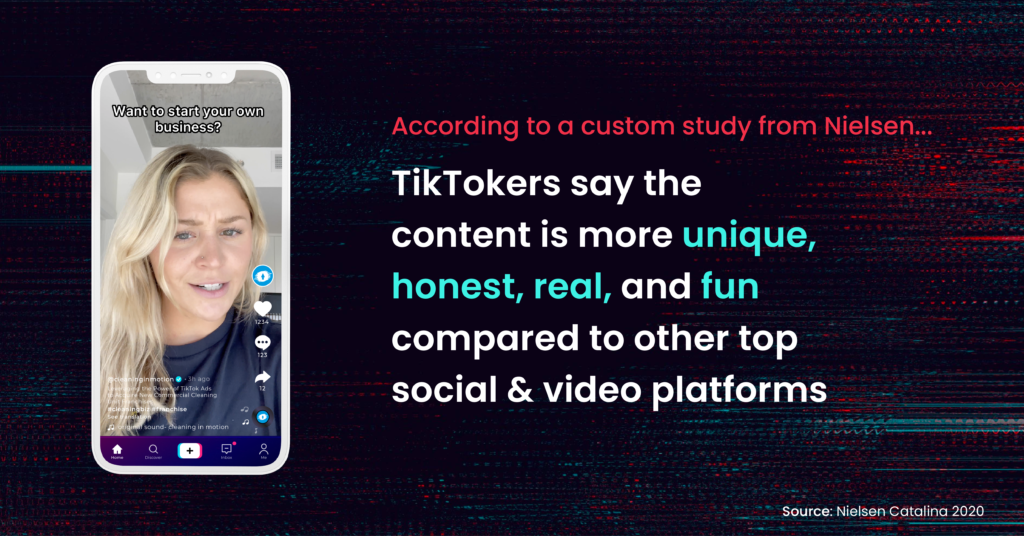 Why Should Commercial Cleaning Businesses Care About TikTok?
TikTok offers many opportunities for businesses of all sizes, especially for cleaning companies. Here are the top reasons why you should consider tapping into this platform:
Access to a Valuable Demographic
One of the biggest arguments you'll hear from those who downtalk TikTok as an advertising platform is that it's mainly used by teenagers for fun dancing and challenges. Although such videos increased TikTok's popularity, the platform users' demographics are changing to include older audiences.
Statistics show that 31.3% of TikTok users in the U.S. are aged 40 and over. While not all of these older users will be interested in your commercial cleaning ads, the point is that there are many potential customers out there for you to target. TikTok ads allow you to find the few people interested in your business and engage with them when they're most likely to pay attention.
Users Are Ready To Act
Most marketers fear that TikTok users are too passive and won't engage with ads. However, this couldn't be further from the truth! TikTok users are active and often use the platform to connect with businesses they like.
And when they see an ad that speaks to them, they take action. Research indicates that 39% of the platform's users have used it to discover a brand or a product they were unfamiliar with.
Another 47% have purchased something after seeing it on TikTok. These figures speak for themselves and tell you why TikTok is a great place to advertise your commercial cleaning business and reach new customers.
Marketing Without Feeling Like You're Marketing
In the era of ad-blocking software and people being bombarded with standard ads, having creative content is essential to standing out from the crowd. TikTok allows businesses to market their products in a fun, rather than intrusive way.
For example, you could create a TikTok video about the importance of regular commercial cleaning services and include your company's logo at the end. You could add an entertaining twist to your videos, like a dancing mop character, to get users' attention. These are simple videos that don't feel like ads, yet they provide valuable information and allow you to cleverly promote your commercial cleaning franchise.
Opportunity to Benefit From the Virality Effect
With the platform's virality effect, your content could end up in front of many viewers who might not have seen it otherwise. This is an invaluable opportunity because it can help build brand recognition and get curious users to check out your business. Creativity and quality content are all it takes to make your video go viral.
How To Use TikTok Ads for Cleaning Business To Acquire New Unit Franchises
TikTok ads are a great way to acquire new cleaning business franchises. To make the most of this platform, you should:
Start by Mentioning the Benefits of Your Services
You only have three seconds to capture viewers' attention, so start strong by presenting the advantages of being in the commercial cleaning industry. Your type of TikTok ad will determine how much time you have to pass your message. If the ad allows for a longer video, you can use that time to get into more details, but always prioritize the benefits, as they'll motivate your target audience to take action.
Be Authentic
TikTok users are savvy and can easily tell when an ad doesn't feel authentic. They won't think twice about scrolling to the next post if your ad feels too cold or sales-y.
Focus on creating genuine content that speaks to them and makes them feel connected to your brand. The best way to come across as genuine is to post a video in its most raw form.
Jump on Trends
No platform is more familiar with trends than TikTok. Use trending topics and hashtags to connect with your target audience and ensure your content is timely and relevant. 
For instance, if a cleaning-related trend is popular among users, don't be afraid to join in and use it. However, you must be an active TikTok user to understand the popular trends at any given time.
Have Fun With the Ads
Most people are on TikTok to have fun, so the last thing you want to do is share a boring video. Find ways to make your video entertaining and fun by using humor, amazing visuals, and soundtracks that will grab users' attention. Be creative with your content and look for ways to make it entertaining while still promoting your services.
Use the Special Ad Category toggle
In TikTok's policies, offering a franchise is considered an employment opportunity, so when setting up your campaign, it's essential to use the Special Ad Category toggle; otherwise, your ads could be rejected. Click here to learn more about this policy.
What You Should Expect When You Start Your TikTok Advertising Campaign
Before diving into your new marketing campaign, you should know what to expect so you don't abandon it the minute you run into a roadblock. Here are two things to expect when you start running TikTok ads for your cleaning business:
Getting a Flood of Leads and New Franchise Owners Will Take Time
Your success won't come overnight, so be patient and focus on creating quality content. It will take time for you to see a good return on your investment, but if you keep at it, the results will come.
Based on our experience at Cleaning in Motion, a monthly investment of $1,500 in TikTok ads will generate about 30 to 55 leads. With a lead-to-meeting conversion rate of 30-40%, your advertising investment will result in about 10 to 20 meetings per month.
If you use the right strategies and turn 25% of these meetings into new franchises, you'll have added 3 to 6 new franchise owners each month. This is a good return on investment.
You'll Need to Pre-qualify Your Leads
Not all leads will be qualified, so you'll need to pre-qualify them. Make sure you have a way to assess your leads and determine if they are interested or have what it takes to become franchise owners.
An example is asking pointed questions when presenting a form to potential leads. The questions will filter out people like job seekers and those not fit to own a franchise. Leads pre-qualification will save you time and make your leads generation campaign more successful.
Another idea that works from our experience is to divide your audiences per language, separating English and Spanish audiences, so you can differentiate if your qualified leads are English speakers or Spanish speakers. Then, you can allocate your budget based on which leads are more qualified.
Start Leveraging the Power of TikTok Ads for Cleaning Business
If you're in the commercial cleaning franchise business, your target audience is likely using TikTok, so why not take advantage of it? With the right strategies, you can generate more leads that will likely convert into new franchise owners.
If coming up with an effective TikTok ad campaign for your franchise business seems daunting, you can get help from the experts at Cleaning in Motion. We offer a wide range of white glove marketing services that can help you create effective and engaging content to capture the attention of your target audience on TikTok.Schedule a lead flow acceleration session today, and let us know about your marketing needs. And if you're looking for more information about using TikTok ads and other digital marketing strategies to get more leads, take a look at our book.